Altered Images: Godzilla, Lenin's tomb and Red Square suitcase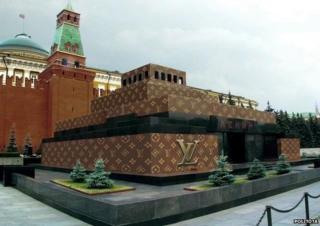 For a few days, a giant Louis Vuitton suitcase dominated Moscow's Red Square. It became the butt of internet jokes, including tweaked photos poking fun at the incongruous addition.
The two-storey pavilion was erected in Red Square for an exhibition on the luggage brand, with proceeds from ticket sales going to a children's charity. But it blocked the view of landmarks such as St Basil's Cathedral, Lenin Mausoleum and the Kremlin. Red Square itself is a Unesco site and considered a sacred place for the Russian state.
So on Wednesday evening, workers started to dismantle the suitcase after it drew sharp criticism from politicians, commentators and on social media. Many have shared satirical blog Politota's picture of the Lenin Mausoleum with LV livery Photoshopped onto it. Also popular is a cartoon of Godzilla stomping towards Red Square on the hunt for his missing suitcase.
But it's sheer coincidence Politota's tweaked image of Lenin's tomb dovetails so neatly with recent events. "The image was created long before the suitcase story happened," Russian blogger Roman tells the BBC. "The idea behind this creation is close to what Andy Warhol did - take a well-known treasured symbol and devaluate it.
"At the same time, there is an ideological conflict in it. Vladimir Lenin is a symbol of communism and old times. Louis Vuitton is quite the opposite - it's symbolic of capitalism and the new order of life in Russia. These two ages have overlapped and mixed in my country nowadays."
Cartoonist Sergey Elkin says the sheer size of the suitcase - 30m long and 9m high (99ft by 30ft) - inspired "this metaphor with Godzilla".
Many politicians say they regard the pavilion as tantamount to blasphemy or "an obscenity", as Communist party spokesman Sergey Obukhov has described it. "There are certain symbols that cannot be defamed and vulgarised, because the future of the state stands upon them." How he might regard the photo of Lenin's tomb in LV livery can only be surmised.
Although the suitcase has attracted opprobrium and derision, others defend it. It has also inspired political jokes on social media. Maksim Kashulinskiy tweeted: "Russia should have a bipartisan system: those who are for the Suitcase and those who are against (I am for, just in case)." Sandy Mustache tweeted: "This is not a suitcase. This is [Moscow mayor] Sergey Semenovich Sobyanin's wallet."
And when news broke that it was to be removed, Rustem Adagamov said on Facebook: "This is probably the biggest failure for the French since Napoleon left Moscow in 1812."
Use #NewsfromElsewhere to stay up-to-date with our reports via Twitter.