Uzbekistan: State-run TV urges respect amid first family feud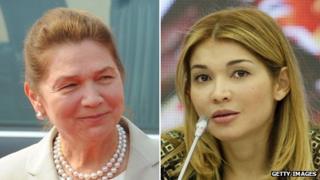 Uzbek state-run TV has called on people to be polite to their parents after the president's daughter took to social media to criticise her mother.
A religious programme called "Towards Fairness" warns viewers against "various pieces of unverified and slanderous information" spread on the web or by foreign media. It comes after the president's daughter, Gulnara Karimova, took to Twitter to accuse her mother, as well as high-ranking security officials, of cracking down on her interests and activities.
The 20-minute programme on the O'zbekiston channel quotes an Islamic saying, according to which cursing one's own parents is "the greatest sin". The chief imam of Tashkent, Anvar qori Tursunov, hammers home the message. Spreading "bad words" without verifying them is "a great sin", he says. "Words can cause instability in society. Therefore, let's be careful with what we say."
Gulnara Karimova was once seen as a possible successor to her 75-year-old father, President Islam Karimov, but she has since renounced her presidential ambitions.
Use #NewsfromElsewhere to stay up-to-date with our reports via Twitter.