Russia: Riot police unit made up of identical twins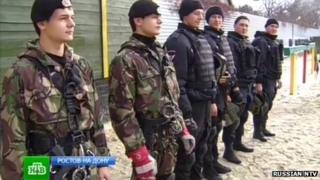 Riot police in the southern Russian town of Rostov-na-Donu have put together a squad formed solely of identical twins, it's emerged.
The armed unit was assembled after three pairs enlisted almost simultaneously, Russian NTV reports. Instructors apparently like the way they work together as teams. "I only have to look at him to know what he's going to do," one of the twins said of his brother.
But although their similarity can be useful, they aren't allowed to exploit it for personal gain. "Nobody has tried to take exams on behalf of his brother, as identical twins sometimes do at school," the TV correspondent said. "At least, the riot squad's officers think so." Apparently the unit is such a success that another pair of twins is about to join it.
Use #NewsfromElsewhere to stay up-to-date with our reports via Twitter.