Italy: Berlusconi 'just like JFK', says paper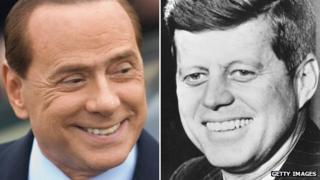 Italy's flamboyant former prime minister Silvio Berlusconi and the late US president John F Kennedy are very much alike, it seems.
The two share many characteristics, says a front page editorial in the Berlusconi-supporting newspaper Il Giornale, including wealth, political success and "an overwhelming passion for beautiful women". In another story marking the 50th anniversary of Kennedy's assassination, the paper describes JFK as "an icon whose popularity the left [of politics] has been milking for half a century".
But while Kennedy is an icon despite his well-known sexual peccadilloes, Berlusconi is castigated by those same "token moralists" who idolise the late US leader, the editorial says. "They tell us that in Kennedy's case being a libertine added to his allure. The hypocrisy is that this kindness is extended only to those who are on the left, where whores and pimps are not lacking, but where, uniquely, they add much chic."
The paper headlines its editorial A Kennedy at Arcore - Arcore being a reference to Berlusconi's luxurious villa near Milan where "bunga bunga" sex parties are said to have taken place.
The editorial comes the day after judges in Milan gave details of their ruling on why they had found Berlusconi guilty of charges of having sex with an underage prostitute.
Use #NewsfromElsewhere to stay up-to-date with our reports via Twitter.