Moldova: Spring plants flower in November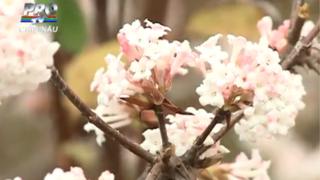 Unseasonably high temperatures mean trees are blossoming and plants are flowering in the eastern European country of Moldova, it's reported.
Video aired by Pro TV shows parks and gardens around the capital Chisinau filled with flowering plants, with one biologist saying wet and warm weather has created favourable conditions for spring flora at the wrong time of year. While residents enjoy the warm weather, experts warn it may spell disaster next year for the agricultural sector, which makes up at least a third of Moldova's economy. But one political analyst tells the local Infotag news agency it has one benefit as Moldova inches toward integration with the EU. "Warm weather allows Moldovans to consume less Russian gas and thus make some savings," Anatol Golea jokes.
Average highs are usually about 7C (45F) in November, but this week the mercury has risen to 14C (57F). One resident, referring to the fact that it is usually snowing by the time the Orthodox Church celebrates the feast of the Archangel Michael on 21 November, recalls the saying: "On St Mihail, you go on a cart and return on a sledge."
Use #NewsfromElsewhere to stay up-to-date with our reports via Twitter.