Russia: Dagestani boxers in dramatic tram rescue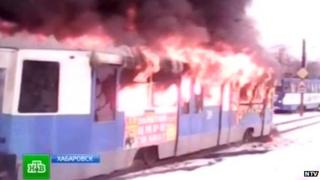 Boxers from the restive Russian republic of Dagestan are being hailed as heroes after saving passengers from a burning tram, it's reported.
The athletes, in Khabarovsk for the Russian boxing championships, were jogging around the Arsenalets Palace of Sports when they spotted the burning tramcar, Russian television channel NTV reports. The group helped to break the tram's windows and hauled about 20 people to safety, an act for which they've received bravery awards from the local mayor. Tram driver Nikolay Skrytov says a short circuit meant the vehicle's doors wouldn't open: "Everything was very horrible. As there was little time I decided to smash a window with my foot and started getting passengers out through there."
Universal praise for the boxers' heroism has given Dagestan a much-needed boost to its public image, as it's more usually associated with organised crime, corruption, kidnapping, a violent Islamic insurgency and as the homeland of Boston bomb suspects Dzhokhar and Tamerlan Tsarnaev. Russia's Emergencies Minister Vladimir Puchkov says he will travel all the way to the far eastern city of Khabarovsk to congratulate the sportsmen in person.
Use #NewsfromElsewhere to stay up-to-date with our reports via Twitter.