Nepal: Battle of the female rappers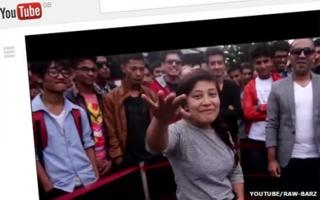 Female rappers are causing a stir in Nepal, it appears - an unusual phenomenon for a country dogged by gender violence.
Raw Barz, a freestyle hip-hop movement, has hosted the country's first female rap battle. The event, spearheaded by Nepalese rap icon Yama Buddha, allows fledgling rappers to build a career in Nepal's music industry. Until now, it's been dominated by men, with the likes of Laure and Sacar releasing their own music videos.
But young women are stealing their thunder for the first time. The most popular among the few female rappers are Tsamyun, Pari and Rhythms Up, who trade jokes in a mixture of English and Nepalese to the roars of the male-dominated crowd. The event's official blog carries a synopsis of a "heated female rap battle" between Tsamyun and Rhythms Up: "Tsamyun disses her opponent for her looks" and Rhythms Up "chooses to humiliate her opponent with nerdy jokes and sarcasm".
In contrast to these confident street poets, statistics tell a different story about women's lives in Nepal. UN figures suggest gender-based violence and child marriage are still pervasive. Human Rights Watch's World Report 2012: Nepal says trafficking, domestic violence, dowry-related violence, rape and sexual assault continue to plague the country. In response, Social Welfare Minister Badri Prasad Neupane told the UN in March that Nepal has adopted a five-year national strategy aimed at ending gender-based violence.
Use #NewsfromElsewhere to stay up-to-date with our reports via Twitter.