Russia: Students expelled for folk dancing in the street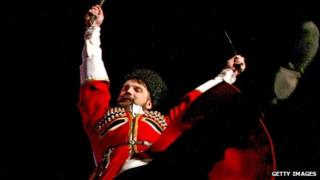 Eighteen students have been expelled for folk dancing in the streets of Kislovodsk in southern Russia, raising accusations of nationalistic prejudice, it's reported.
The medical students were encouraged to leave the college of their own accord after police prosecutors filed a report that the group breached the peace by dancing in public "with loud cries and whistles", Gazeta newspaper says. The students - all from the Muslim-majority Ingushetia, North Ossetia and Kabardino-Balkaria regions - give a different account of the incident. One tells Gazeta it's a manifestation of nationalism in the majority ethnic Russian city. "We are 18 Turks, quite sober when we danced, and we had no knives on us. We didn't even know that you're not allowed to dance the lezginka in Kislovodsk. We paid the fine. So why we were expelled I cannot understand."
The lezginka is the national dance in Russia's Caucasus regions. Shouts and boisterous musical accompaniment are deemed essential for its success, so it appears to be at odds with Kislovodsk's quiet reputation. "This is a spa town. People come here to recover their health," a police spokesman tells the paper.
Use #NewsfromElsewhere to stay up-to-date with our reports via Twitter.