India: Cash incentive to have more children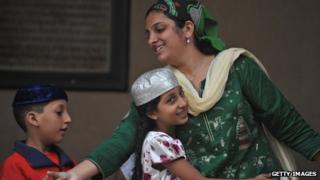 Some couples in India are being offered a monthly cash incentive to encourage them to have larger families, it seems.
Members of the minority Parsi community, who are followers of the Zoroastrian faith, are being offered up to 5,000 rupees (£50) a month to reverse dwindling population figures, the Times of India reports. The Bombay Parsi Panchayat, the community's self-governance organisation in Mumbai, is offering the allowance until children reach the age of 18. The Panchayat will also bear the expense of fertility treatment for parents, plus educational and medical bills for children, reports say.
While India's population has ballooned to more than 1.2 billion people, the tiny Parsi community has seen its numbers steadily decline. It's now thought to number less than 70,000, with the majority living in Mumbai, and deaths outnumber births by about 700 every year, says the Daily News and Analysis newspaper. Bombay Parsi Panchayat chairman Dinshaw Mehta says the community has a habit for late marriage and only having a single child. "The situation can change only if Parsi couples conceive more children, and for this we have decided to provide them with all the necessary assistance."
Use #NewsfromElsewhere to stay up-to-date with our reports via Twitter.