China: Waste heat used to warm polluted city
News from Elsewhere...
...as found by BBC Monitoring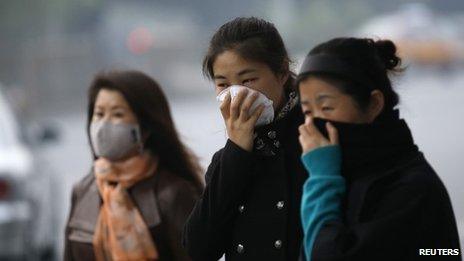 One of China's most polluted cities is using hot waste water from a refinery to warm homes and reduce smog, it's reported.
Shijiazhuang is using the spare heat in industrial waste water to warm homes in its Lijingwan neighbourhood, the New China News Agency reports. The warmed water is then further heated by energy-efficient boilers as part of the city's efforts to cut pollutants caused by heating. It's hoped the pilot scheme will cut energy consumption by 44% and save 868 tonnes of coal this winter. "It turns the waste into a gold mine and reduces emissions," says vice-mayor Zhang Ye.
Shijiazhuang topped the Ministry of Environmental Protection's list of 10 cities with the worst air quality last month - one of seven cities in the Hebei region of northern China to make the list.
Public heating was officially turned on last Friday in many cities in northern China, a move which typically signals a rise in smog levels. The government is trying to cut China's reliance on coal in its fight against airborne pollution. Experts warn the frequent smog may deter Chinese expats from returning, the agency says.
Use #NewsfromElsewhere to stay up-to-date with our reports via Twitter.