Egypt: Are there really three million atheists?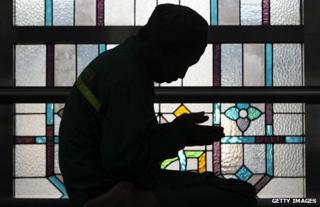 Up to three million Egyptians are atheists claims a Cairo-based newspaper, as reports highlight the difficulties in openly choosing to follow no religion in Egypt.
The al-Sabah newspaper claims a significant proportion of Egypt's 84m population have no religion, citing an unnamed US survey. It says extremist preachers are "frightening people away from any heavenly religion". The newspaper says that while numbers rose during the Muslim Brotherhood's rule, swelling ranks of atheists will have no effect on the influence of Islam or Christianity in the country. According to a report by al-Jazeera, one informal group of atheists has about 100 members. One says the 2011 revolution has been a mixed blessing for atheists. "It gave you more space. You can speak your mind more," he tells al-Jazeera - but insists on using an assumed name in their report.
Precise numbers of atheists are hard to come by as irreligion remains a taboo subject in a country where citizens are loathe to express their lack of faith in public. A 2010 survey by Pew Global showed a sizeable majority in favour of the death penalty for those who leave the Muslim religion. A poll by Gallup the previous year called Egypt the world's most religious country - 100% of respondents said they belonged to one faith or another. Islam remains by far the most widespread religion in Egypt, and there is a sizeable Christian minority. Egyptian law allows for a six-year prison term for offending religion in any form. A university student in Ismailia was placed under investigation in October for creating a Facebook page promoting atheism.
Use #NewsfromElsewhere to stay up-to-date with our reports via Twitter.