UAE: Taken to court for 'lewd' handshake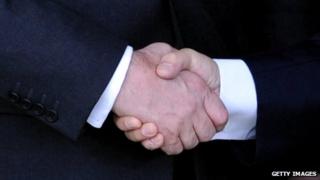 A fireman in Dubai has taken a civil defence officer to court over what he claims is a "belittling" handshake, it's reported.
The official is accused of making a "lewd" gesture in public, for allegedly folding in his middle finger while shaking hands with the unnamed fire-fighter, the Emirati newspaper Gulf News reports. The corporal in the fire service also alleges that the defendant used foul language which "made him feel he was being looked down on".
In court, the fire-fighter said that after a previous falling-out and subsequent apologies, the accused "started shaking hands with me in an indecent way". In his defence, the official said the accusations were being made out of malice because the fire-fighter had been transferred due to poor performance. "His colleagues washed his brain and let him lodge this untrue complaint," he said in remarks published by the National news website. The case has been adjourned to 10 December.
Etiquette is an important part of Emirati culture, to the point that the Government of Dubai operates a website to remind visitors of acceptable standards of dress and behaviour. "Bad language, making obscene gestures and showing disrespect in any way to Dubai's religion or its leaders are all forbidden and may land you in legal trouble," the government website says.
Use #NewsfromElsewhere to stay up-to-date with our reports via Twitter.