Italy: Football team for African asylum seekers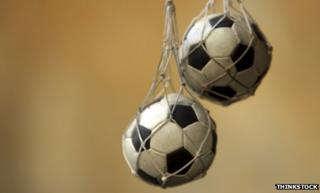 An amateur football club in Sicily has started a new team for African asylum seekers from a local migrant reception centre.
ASD Cara Mineo was created after residents at a migrant reception centre began holding football tournaments among themselves, La Republica reports. Now their squad of 25 players is officially registered by the Italian football federation, and has joined the 10th tier of the football league known as Category Three.
Players' aspirations are high after one of their number was signed by a German Bundesliga team, the newspaper says. And they've made a respectable start to the season, with a 1-1 draw in their debut match against local rivals Atletico Biancavilla.
The team had to miss the first three games because players could not be registered without residence permits, which still have not arrived. But after "a little goodwill from everyone", they were allowed to participate, their spokesman tells the paper.
Thousands of migrants land in Sicily each year after making the crossing from north Africa, often by boat. About 4,000 people are held at the reception centre in Mineo, which formerly housed the families of US military personnel stationed at the nearby Sigonella Nato base.
Use #NewsfromElsewhere to stay up-to-date with our reports via Twitter.