Russia: New fines for bride-napping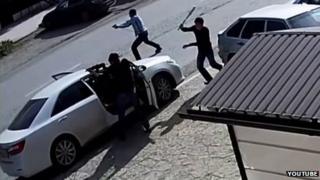 Russia's republic of Ingushetia has introduced hefty fines in an attempt to put an end to the ancient practice of bride-kidnapping, it's reported.
Anyone caught kidnapping a woman for marriage will now have to pay a fine of 200,000 roubles (more than $6,000). Their accomplices - including religious figures performing wedding rites - must fork out half that amount, the Ingushetia government website reports.
The grand meeting that passed the decision involved representatives from the predominantly Muslim republic's legislature, judiciary, top government officials, religious leaders and public figures. No women are in the official photographs from the assembly held in Nazran's Palace of Culture.
Isa-haji Khamkhoyev, the republic's mufti or Islamic scholar, told the assembly the practice of bride-napping was a "disease" affecting the Ingush society, while Ingushetia's leader, Yunus-bek Yevkurov called it un-Islamic. The meeting followed a shoot-out in Nazran in late October, when three people were killed after the kidnapping of a bride who turned out to be a policeman's sister.
Use #NewsfromElsewhere to stay up-to-date with our reports via Twitter.