Egypt: Baby named after general 'denied treatment'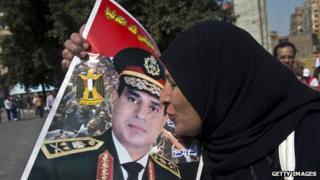 A doctor in Egypt has reportedly been disciplined after refusing to treat a baby named after the country's army chief Gen Abdul Fattah al-Sisi, it seems.
Four-month-old Al-Sisi Osman Atyya was taken to a hospital in the city of Kafr al-Sheikh north of Cairo suffering from fever, but was refused treatment, the Egypt Independent reports.
A senior doctor, said to be a supporter of deposed President Mohammed Morsi, "saw my son's name on the form and frowningly said to my wife - take your son out", the boy's father claims. After a complaint, the doctor was questioned by the hospital's legal affairs team and the local governor's office. He was later moved to an administrative job. The baby was reportedly treated by another doctor.
According to the Egypt Independent, the "unique" name came as a result of the boy's father participating in pro-government demonstrations in Cairo at the time of his birth. "When I knew he was a boy, I named him Al-Sisi because I love General Sisi," he told the paper. The general became Egypt's deputy prime minister after ousting President Morsi in July 2013.
Use #NewsfromElsewhere to stay up-to-date with our reports via Twitter.