Singapore: Campaigners bid to overturn hijab ban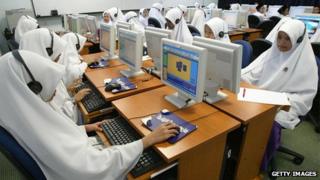 An online campaign has been launched to overturn a ban on the wearing of the hijab in Singapore, it's been reported.
Several online forums and a Facebook page have been set up to gather support against the ban, Today newspaper reports. The Singapore government's policy says women who work in public sector offices which require a uniform cannot wear the hijab, a Muslim headscarf.
An online petition on non-governmental organization Avaaz website seeking to overturn the ban gathered more than 12,000 signatures in September, but was subsequently closed down by its creator.
However, a new page was soon set up on the website, which says people have "a right to wear their personal dressing that is non-discriminatory against any particular group" in Singapore.
One of the most prominent Facebook groups on the issue was the Singapore Hijab Movement, which received over 25,000 "likes" and featured the slogan "Love my country, love my hijab", but has also reportedly become inaccessible. It could not be established what led to the closure of the first online petition, or what happened to the Singapore Hijab Movement's Facebook page.
Deputy Prime Minister Teo Chee Hean said that while the government understands the community's views, it also has the responsibility to maintain social harmony. "Every community when it presses for its own concerns must bear in mind how that affects other communities and how others might see it," The Straits Times quotes the official as saying.
According to the 2010 census, 15% of Singapore's 5.4 million-strong population say they are Muslim, making Islam the city-state's third most popular religion behind Buddhism and Christianity.
Use #NewsfromElsewhere to stay up-to-date with our reports via Twitter.