Venezuela: Chavez daughters won't leave president's palace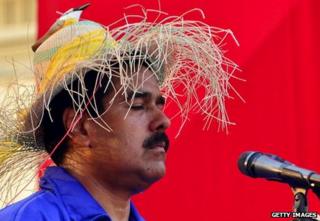 The daughters of late Venezuelan leader Hugo Chavez are preventing his successor from moving into the official presidential residence, it's claimed.
Rosa Virginia and Maria Gabriela Chavez are still living in La Casona palace in Caracas even though President Nicolas Maduro has ordered them out, Spain's ABC daily reports.
The daughters have reportedly had "several altercations" with the president and his wife, and refuse to leave the palace that has been their home for more than a decade.
As a result, ABC says, the president has to spend some nights at the Mountain Barracks, where Hugo Chavez is buried. In television appearances, Maduro says he draws inspiration from the proximity of his predecessor's tomb.
It's eight months since the long-serving and charismatic Chavez died of cancer, but he remains revered by many and his legacy is still palpable in Venezuela. Maduro, a self-confessed Chavista, claims his presidential election campaign was blessed by Chavez's spirit, who appeared to him disguised as a bird.
Last month, Maduro displayed a photograph that he said was of Chavez's face mysteriously revealing itself on the wall of a newly dug metro tunnel in Caracas.
Use #NewsfromElsewhere to stay up-to-date with our reports via Twitter.