India: 'Eve-teasing' fight-back film divides opinion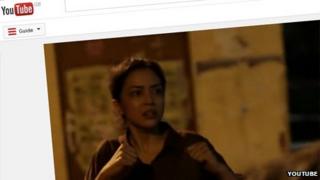 A short film has stirred controversy in India by showing women who fight back against sexual harassment - known as "eve teasing" on the subcontinent.
That Day After Everyday by director Anurag Kashyap has raked up almost two million views on YouTube in just a week. Three women decide they are fed up with daily harassment, and the film climaxes with the trio fighting off abusive men with fists and purses.
It has prompted robust debate in India, where sexual harassment is a major problem and a rape is reported every 21 minutes.
Comments on YouTube range from those praising its message - "This movie will definitely encourage ladies to empower themselves" - to those who regard Kashyap as "a male-hating feminist". On Twitter, views are equally forthright. "Finally, someone got it right. No one comes to your rescue except yourself," tweeted Aparna Kar.
But many warn of repercussions for women if they retaliate against would-be attackers. "Violence never is and never will be the solution to any problem, let alone eve teasing," wrote one blogger.
Despite national soul-searching after last December's fatal gang-rape of a woman on a bus in Delhi, some still speak of India's "rape culture", fuelled by an acceptance of inequality and violence against women.
Use #NewsfromElsewhere to stay up-to-date with our reports via Twitter.