Russia: 'Callous' treatment of pregnant migrant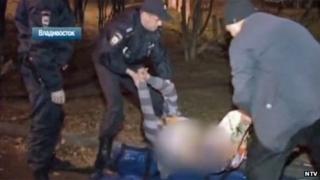 A row rages in the Russian media over an Uzbek woman found writhing in labour at midnight outside a maternity home in the far-eastern port of Vladivostok.
Passers-by called the police, ambulance and a TV crew after maternity home staff refused to open up, saying she had no medical insurance, money or valid ID. Police officers took her inside, where she gave birth in the waiting room. NTV's footage - including a midwife declaring "She's an Uzbek - when she has some money, we'll take her in" - has gone viral. "Sorrow, sorrow and anger" sums up the feelings of many Twitter users, and the Moskovsky Komsomolets tabloid is not alone in asking whether the Hippocratic Oath now begins "Show me the money".
But the maternity home has struck back. Dr Vitaly Melnikov says the mother "has form in these matters" and claims she caused a scene to avoid paying medical fees. Either way, it's stirred a media debate about what NTV calls the "callous" treatment of migrants, and Vladivostok Council plans to ask the government to negotiate reciprocal medical care of migrants with Central Asia states such as Uzbekistan in future.
Use #NewsfromElsewhere to stay up-to-date with our reports via Twitter.