Jamaica: Scorpion stings man in court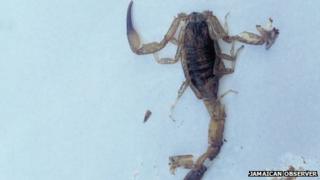 A retired court official is threatening to sue the Jamaican government, saying a scorpion stung him in Falmouth magistrates court as he was awaiting trial on a traffic offence.
Tyrone Hilton, a former clerk of court, says the scorpion attacked as he waited to be called, leaving him with an "agonising pain" in one finger. But help was close at hand.
"While I was sitting there and explaining to a man about my case before the courts, he commanded me to stay still while he boxed the scorpion off my body, stomped on it and killed it," Hilton told the Jamaican Observer newspaper.
Falmouth court is where he began his career as a clerk in the early 1960s. With the benefit of this local knowledge, he is convinced that scorpions are nesting behind the judges' bench, snug among files dating back to the 1930s. "It's the [rainy] season now so they need to call in the pest control to deal with the scorpions," he says.
Use #NewsfromElsewhere to stay up-to-date with our reports via Twitter.