Russia: Ukrainian band fined as no work permit to rock out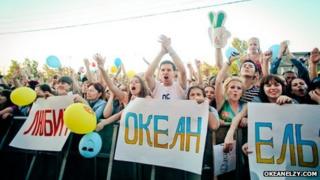 Immigration officers have raided a concert in Russia by the popular Ukrainian band Okean Elzy for allegedly performing without a work permit.
Members of the acclaimed group have been fined 18,000 roubles (£345) and the concert organisers in the city of Saratov 225,000 roubles (£4,300). The Federal Migration Service says it was simply carrying out a spot check, Interfax news agency reports. But this has prompted widespread disbelief. Russia is unhappy with a trade deal Ukraine plans to sign with the European Union, and has recently banned imports of Ukrainian goods ranging from railway carriages to chocolate bars in what many see as an attempt to intimidate the neighbouring country.
Fans feel that the move against Okean Elzy fits this pattern. "It's just like the way they hold up our chocs and cheese," notes one on the Ukrainian magazine Korrespondent. Others ask whether Sting gets his papers checked, or wonder why the organisers didn't arrange the necessary permits.
Ukraine isn't taking it lying down, it seems. Opposition MP Vyacheslav Kyrylenko tweeted that Russian bands should be fined if they lack permits, and presidential aide Yuriy Bohutskyy told Radio Liberty that he plans to take the "misunderstanding" up with the Kremlin.
Use #NewsfromElsewhere to stay up-to-date with our reports via Twitter.