Altered Images: Spoof follows outrage over logo on flag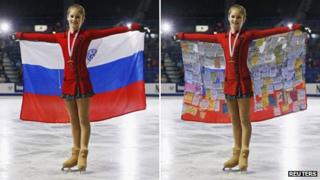 A photo of a Russian ice skater holding up a national flag emblazoned with the logo of carmaker Volkswagen sparked fury on social media.
Teenage Olympic hopeful Yulia Lipnitskaya's performance at Skate Canada had been described as "flawless" and earned her a standing ovation from the crowd. But Russians were shocked to see the German emblem on the national flag. And bloggers were quick to give their own take on the situation, with one digitally plastering office notes with "sponsors' messages" all over it. Ilya Varlamov suggested that the tricolour was treated no better than many bus stops in Russia, which are traditionally adorned with private paste-up ads.
Widely-read daily Moskovskiy Komsomolets fumed: "A trademark on the state symbol marks the end of the state." Meanwhile, one Twitter user, Vsevolod Chernozub, said putting a logo on the flag was "the lowest of the low" and should be punished. Another, Podakuni, tweeted to say that the trademark may just as well be tattooed onto athletes' faces. The intrusive presence of advertising in Russia has long been a source of complaints. One official in Moscow described it as "chaos and mayhem", in daily paper Vechernyaya Moskva, saying that more than 70% of billboards and advertising signs were erected in Moscow illegally.
Others leapt to Lipnitskaya's defence, however, pointing out that the "flag" was actually a rain poncho, which are often sponsored by big firms and handed out to fans at big sporting occasions. Among them was Teh_nomad, who pointed out the logo was on the hood - which had been folded over in the photograph - rather than on the tricolour design.
Use #NewsfromElsewhere to stay up-to-date with our reports via Twitter.