Russia: Dollars not days for Olympic countdown clock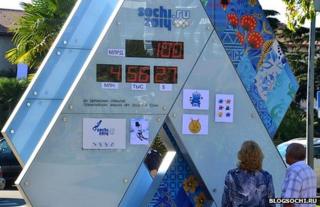 A clock counting down to the Sochi Winter Olympics was temporarily altered to show dollars not days, it's reported.
New countdown labels swapped days, hours and minutes to billions, millions and thousands of dollars to spend on the Games. At one time, the clock indicated there was $100bn left to spend until the opening ceremony in February 2014. The architect of the stunt, the editor of the Blogsochi.ru, confessed to "adjusting the dial a bit" and "decorating" the clock with stickers of the "people's logos" of the Winter Olympics. He added that Sochi citizens seemed to like the joke.
Police eventually removed the stickers and restored the original countdown but not before a few passers-by had their picture taken in front of the clock. Others were less amused. The maks-portal website reported the story under the headline "Sochi hooligans estimate Olympic spending". At a projected cost of $51bn (£32bn), the Sochi Games are set to be the most expensive Olympics yet. Russian opposition leaders have criticised the event as "a monstrous scam", claiming that billions of dollars have been stolen in the course of their preparation.
Use #NewsfromElsewhere to stay up-to-date with our reports via Twitter.