China: First road for Belgium-sized county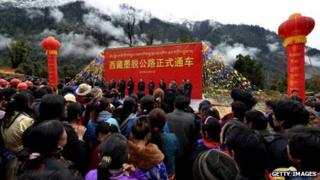 A remote Tibetan county - roughly the size of Belgium - has its first road, it's reported.
Medog was the last road-free county in China but finally ended its isolation when a 117km highway, costing $155m (£97m), linked it to neighbouring Bome, reports Xinhua news agency. But it seems adverse weather conditions in the autonomous region, known as the "roof of the world", will render the road impassable in winter. The thoroughfare will be accessible for eight to nine months a year, barring major natural disasters, the region's transport chief is quoted as saying.
According to Xinhua, getting out of Medog used to be a dangerous journey that required people to climb over the snow-capped mountains of Galung La and Doxong La, more than 4,000m (13,100ft) above sea level, with the risk of being caught in landslides and avalanches. Among those celebrating is a 59-year-old retired official Gyaltsen, who reportedly submitted several proposals for a road in Medog during 10 years as a National People's Congress deputy. Apparently, it used to take him two weeks to walk to Bome to catch a bus to the regional capital, Lhasa. Reaching Beijing for the congress meant another day's journey by plane.
Use #NewsfromElsewhere to stay up-to-date with our reports via Twitter.