Zimbabwe: Mugabe 'complain about people's mistresses in wedding speech'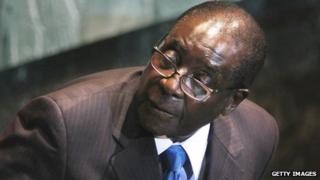 Robert Mugabe used his niece's wedding to complain about people having mistresses, it's reported.
The veteran leader made a speech to lament the "small house" culture prevalent in the country, according to UK-based news site New Zimbabwe. It's a reference to the phenomenon of long-term extra-marital affairs that's reported to have sprung up in the country in recent years. Apparently, economic problems forced many men to drop polygamous lifestyles, while fears of contracting Aids led them to eschew casual sex with strangers.
The term "small house" refers to the economic support, in terms of rent, food and school fees, they might pay lovers. And New Zimbabwe quotes Mugabe as suggesting some ministers' wealth may be leading them astray. "Small houses, small houses! I said to cabinet the other day: 'looking at all of you, who can I say does not have a small house'?" he's reported to have said. After extolling the virtues of monogamous relationships, he apparently joked that although he was invited to many wedding parties, he was never invited to the divorces which often followed.
Use #NewsfromElsewhere to stay up-to-date with our reports via Twitter.