Afghanistan: Troop withdrawal 'shatters pet vendors'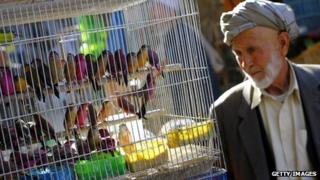 The impending withdrawal of international troops from Afghanistan is proving a nightmare for Kabul's caged bird salesmen, it seems.
They're used to raking in thousands of dollars for caged birds, according to state-owned National Afghanistan TV. But it hears from shopkeepers who suggest the "2014 effect" on the economy - referring to the mass pullout of foreign troops as Afghan security forces take full control of more areas - has seen the going rate for canaries plummet from up to 200,000 afghani ($3,580, £2,230) to just 5,000. "The year 2014 has even impacted these canaries," one complains.
In the capital's century-old pet market, Kocha-e Kah Foroshi, dozens of shops sell exotic or fighting birds including canaries, parrots, peacocks and pigeons. Shopkeepers in the narrow alley tell reporters many stalls have shut, having failed to cover costs. "Even people who liked those birds are now selling them out of poverty," says one. The World Bank expects economic growth, largely reliant on aid and security spending, to plummet 10%. Meanwhile, people are stockpiling cash in case security deteriorates. The US is halving its military presence to 34,000 by February and withdrawing all "combat" troops by the end of 2014, when the current Nato mandate ends.
Use #NewsfromElsewhere to stay up-to-date with our reports via Twitter.