Kenya: Call for AK-47s in every church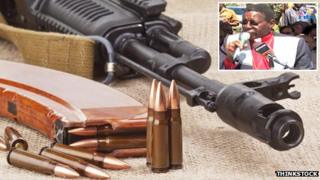 Kenyan churches should be supplied with assault rifles so clergy can defend themselves from violence, one pastor has suggested.
An evangelical preacher made the demand after two colleagues were murdered in the coastal region around the second largest city, Mombasa, reports NTV. "Every church should be provided with an AK-47 to prevent our churches from being torched, our property from being looted, and Christians and our pastors from being killed," the unidentified clergyman was filmed telling cheering colleagues and mourners at the funeral of one of the victims this week. His Bishop, Kepha Omae from the Redeemed Gospel Church, later told the channel that while he didn't want clergy armed, it could be necessary to train church leaders to protect congregations.
However, Muslim leaders and clergymen from the Anglican Church of Kenya warn that arming priests isn't the solution and insist it's the government's job to provide security. Religious tensions have been rising in the coastal area, where economic deprivation is said to be driving many youths towards Islamic extremism. Last year, the assassination of a Muslim cleric - who'd encouraged citizens to rise up against government forces fighting militants from neighbouring Somalia - sparked retaliatory attacks on churches.
Use #NewsfromElsewhere to stay up-to-date with our reports via Twitter.