Germany: Police probe 'mountain summit theft'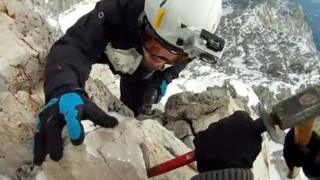 Police investigated reports that climbers hacked off the tip of the summit of Germany's highest mountain, it's claimed.
There was "uproar in Bavaria, indeed the whole of Germany" over the YouTube video claiming to show four Austrians chiselling off a lump of rock from the 2,962m (9,718ft) Zugspitze, according to Munich-based Sueddeutsche Zeitung. But it seems it was all a publicity stunt. The video shows the quartet chipping away at rock and hiding away their trophy, before cutting to a scene of them plonking the "peak" on a table as they share a beer. The end caption showed the mountain's height amended to "Die Zugspitze; 2,961m".
Regional broadcaster Bayerischer Rundfunk reports that state forest officials prepared a complaint to police, with "chisel marks" apparently having been found near the summit, but it turned out to be a stunt by the Vienna Model Making Trade Fair. The agency behind the stunt insisted no damage had been done, reportedly saying they'd grabbed "any old piece of rock" and carried it to the summit. The German press kept its sense of humour, with best-selling daily Bild digitally "stealing" the peak of Austria's 3,798m (12,461ft) Grossglockner.
Use #NewsfromElsewhere to stay up-to-date with our reports via Twitter.