Altered Images: How activists cried foul over 'suicide bomber' photo
Altered Images
Questioning whether cameras never lie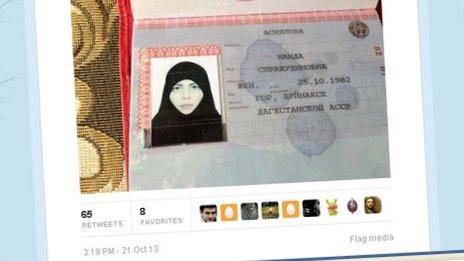 Hours after six people died in a bus suicide bombing, pictures of a passport - showing the suspect wearing a headscarf - were aired on Russian TV. But they were soon called into question.
The first page of Naida Asiyalova's passport had been published via a National Anti-Terrorism Committee Twitter account, recalls twice-weekly paper Novaya Gazeta. It says that initially no-one picked up on the fact that, under Russian law, it's forbidden to be photographed for documents in a hijab and simply reported that it had been found at the blast scene. "Only individual bloggers began to wax indignant," it reports, noting that Asiyalova would not have been able to board a long-distance bus to get from her home in Dagestan to the scene of Monday's blast, in Volgograd, with that photo in her passport.
Soon afterwards, pictures of another passport began circulating. It was damaged but had the same details, except that this time Asiyalova's head was uncovered. Opposition activist Roman Dobrokhotov was among the first to suggest this might have been the real one. Political website Slon asked why security forces felt the need to publish "such a strange fake". Eventually, even state-controlled Russian Channel One TV suggested the hijab in the earlier-released version had "been glued on top of another photograph". Another activist, the former World Chess Champion Garry Kasparov, tweeted to complain that "no officials or media will be grilled about the fake's release".
Russia's main investigative agency later said it hadn't released the first picture, according to AP news agency. It quoted state-controlled NTV as reporting that the picture with the hijab was a scan of Asiyalova's passport, taken from a dossier held by security agencies, and that a photo of Asiyalova in a headscarf had been placed over it by a security agent.
Use #NewsfromElsewhere to stay up-to-date with our reports via Twitter.