China: Forbidden City pee 'a marathon tradition'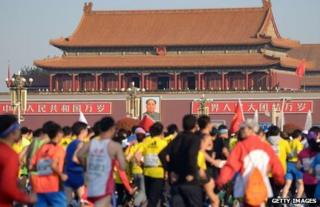 Weeing on the 15th Century wall of the Forbidden City has become a tradition for Beijing Marathon runners, it's claimed.
Sunday's event, its 33rd incarnation, was hailed a success by the China Daily. It said an estimated 30,000 people took part, after it sold out in record time, while there was a men's course record for Ethiopia's Tadese Tola and a home win for Zhang Yingying in the women's race. But, as the Chongqing Morning Post noted - via the English-language Global Times - three days later, people were "still buzzing about the number of runners who engaged in public urination along the route".
It was the widdling on the famous red wall of the World Heritage Site former Ming palace that made a splash for state news agency Xinhua, after it spotted internet photos of those caught short. It quoted one female runner saying men dashed to the wall soon after the start. Organisers insist there it's not down to a lack of portable toilets, blaming "uncivilized behaviour", China Daily reports. And several runners reportedly back this up, saying it happened every year. China Radio International quoting one regular as saying there's a "tradition" of collective urination.
Use #NewsfromElsewhere to stay up-to-date with our reports via Twitter.