Kazakhstan: Video claims of 'family jihad'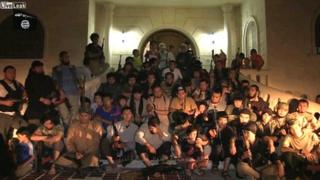 A video purporting to show a Kazakh "family" of 150 people - including women and children - preparing for jihad in Syria has been posted online.
Kazakhstan's government has acknowledged that some of its citizens have gone to join the civil conflict raging in Syria but says claims about an extended family are untrue, reports Russian agency Interfax. Radio Free Europe had reported the video's title as The Muslim Family of 150 People Who Moved to Sham (Syria), saying it featured children and teens explaining in Kazakh, Russian, and Arabic why they'd joined Islamist rebels. It quotes one teenager as saying: "God Almighty obliged us to go on jihad."
According to Interfax, the National Security Committee's Nurgali Bilisbekov acknowledges Kazakh citizens are in Syria. "We are worried because they are committing illegal acts on the territory of a foreign country," it quotes him as saying. But asked about the video, he said: "The comments said they were members of one family, 150 people, but that was not true." There's long been concern about foreign jihadists in Syria and Kazakh officials fear citizens influenced by extremist internet videos are travelling "through refugee camps in Turkey, with which Kazakhstan has visa-free travel".
Use #NewsfromElsewhere to stay up-to-date with our reports via Twitter.