Japan: Robot comic double act hit circuit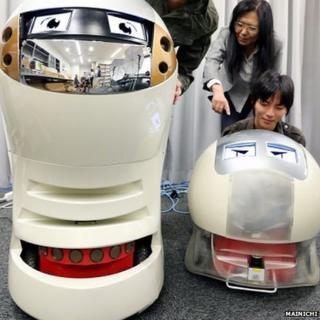 A Japanese university team has invented a robot comedy duo, it's reported.
Tokyo's Mainichi Daily News describes the computerised double act being "showered with laughter" when performing for elementary school students at Konan University in Kobe. Apparently, 55cm (22in) tall Gonta is full of laughs - being programmed to mistakenly pronounce words during their conversations - while metre-high Aichan is his "straight man" sidekick who responds to the words. They reportedly use the dialect of the western Kansai region, which is often used on Japanese TV for comedic effect, and even change their facial expressions during their acts.
Routines are worked out by Aichan, who searches the internet for news about a given topic and then creates a script, according to the Japan Daily Press. It says the team from Konan's Faculty of Intelligence and Informatics created Aichan in 2009 to give auto-responses to questions. But they set about giving him a comedy partner a couple of years later for fun. It seems they've been performing at student events for a few months. Still, Prof Akiyo Nadamoto, who's researching an auto-scripting system, has spotted one flaw in their act. "At times, they are often not very funny," he's quoted as saying.
Use #NewsfromElsewhere to stay up-to-date with our reports via Twitter.