Norway: Fake body parts 'scaring children'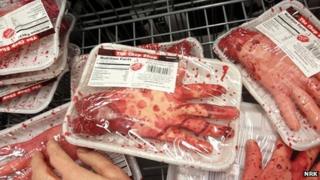 A row's erupted over a Norwegian discount shop flogging fake human body parts packaged like cuts of meat.
And while it's only a Hallowe'en stunt, a children's watchdog doesn't see the funny side, it seems. "You can get a person here in several pieces," Europris shop manager Svein Monsen told the Norwegian Broadcasting Corporation in the southern town of Kristiansand, cheerily brandishing a "severed arm". But Kjellaug Tonheim Tonnesen of Barnevakten, the Norwegian children's council, says: "What we have here is very extreme, especially as it is next to the children's fancy-dress costumes. The body parts are covered in blood and packaged to look like meat in a fridge. Many children think it's scary."
The packages are labelled "Chop Shop", with stickers containing spurious nutritional information. Europris doesn't sell any food beyond packs of sweets, and the fake meat is only on sale in the special Hallowe'en section. Monsen dismissed Tonnesen's concerns. "It's just for fun."
Use #NewsfromElsewhere to stay up-to-date with our reports via Twitter.