India and Pakistan in box office battle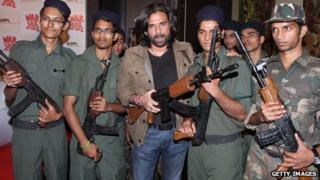 Traditional foes India and Pakistan are battling it out in the box office with the back-to-back release of war films.
The pair are known for showing each other in a poor light on the silver screen and Indian papers are complaining that the Pakistani production Waar (The Strike) reportedly takes a strong anti-India stance. However, unlike previous Bollywood blockbusters Gadar (The Revolt), Sarfarosh (Zealous) and LOC: Kargil which rode high on anti-Pakistan sentiment, India's latest offering War Chod Na Yaar (Let's Give up War, Pal!) touts itself as the country's first-ever war comedy and advocates peace. Waar's Facebook page says the movie is about "the effects of America's War against Terrorism on Pakistan". However, Delhi's Hindustan Times says the film paints two Indian intelligence agents as the "primary cause of most trouble in Pakistan" as they are involved in political murders, suicide bombings and kidnappings.
The two nations have fought three wars since the subcontinent's partition in 1947 and remain at loggerheads over Kashmir, so unflattering portrayals - like those in Pakistani film Khuda Ke Liye (For God's Sake), which referred to Indians "killing" Muslims in Kashmir", is perhaps unsurprising . But while India's Hindi film industry is the largest in the world, Pakistan's fledgling production houses struggle to find finances. Waar, with its reported $2.5m (£1.55m) budget making it the country's most expensive film to date, seems to be winning the most viewers. It surpassed Bollywood film Chennai Express's opening day earnings record, grossing 11.4m rupees ($107,000, £66,000), says the Express Tribune. By Indian standards War Chod Na Yaar did average business, according to trade analysts quoted in the Times of India, collecting around 45m rupees ($730,000, £452,000) in its opening weekend.
Meanwhile, Pakistan's social media is abuzz with rumours that Waar was funded by Inter-Services Public Relations (ISPR), an arm of the country's military. Director Bilal Lashari put that down to "confusion" with the production company having previously worked on "small projects" for the military. "The ISPR has not financed this film," he wrote on Facebook, adding that it had provided helicopters and other support for some scenes. Not everyone would have been bothered, in any case. "So what?" wrote Lahore-based lawyer Asad Rahim Khan writing in The Express Tribune. "The point is the film industry should breathe again, and that local talent find a reason to stay local".
Use #NewsfromElsewhere to stay up-to-date with our reports via Twitter.