Italy: Wild boar 'rampage through city'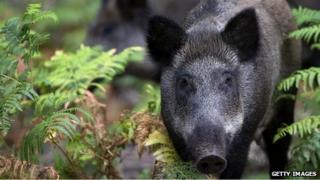 Wild boar are marauding through Genoa, ruining parks, gardens and - in one instance - eating a pensioner's pet dog, it's reported.
Police in the northern Italian city are to hunt them with shotguns, while cages are being set up around apartment buildings to keep out the beasts, who've been scavenging in the city because of a shortage of food in the surrounding forests, according to La Repubblica. The boar, which weigh 80-100 kg each, have apparently caused traffic accidents and destroyed crops, while in one area a herd was spotted entering a playground.
But some locals are feeding them, despite it being banned, according to provincial official Piero Fossati. "In one street there is a person who puts food out, and the boar always return… the numbers going there have increased dramatically," he's quoted as saying. "In Europe, only Barcelona and Berlin have the same problem and nobody has found a solution." Italy's wild boar population has reportedly grown in recent years as demand for the prized meat of il cinghiale has grown. However, il Corriere della Sera reported in March that 27 animals shot last hunting season contained traces of radioactive material, possibly as a result of the 1986 Chernobyl explosion.
Use #NewsfromElsewhere to stay up-to-date with our reports via Twitter.