Libya: Captive drivers 'not kidnapped'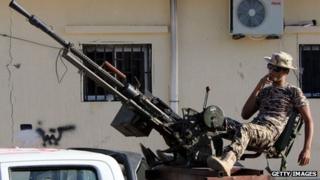 Armed Libyans held dozens of Egyptian lorry drivers captive overnight - but denied kidnapping them, reports suggest.
Reports suggested anything from 70 to 200 truckers were detained by militiamen from the al-Zawiya tribe who were demanding the release of relatives imprisoned on arms charges in Egypt. At one stage, Al-Misri al-Yawm newspaper was even reporting that the Libyans had threatened to kill the drivers. However, by Sunday, they'd been freed, with the paper quoting spokesman Hammad al-Akir's cryptic statement that they "did not kidnap the Egyptian drivers", arguing that it was only "a message" to release Libyans held in Cairo, and expressing the wish that the "news of [their] release would make Egyptians happy".
Meanwhile, another person with questionable understanding of the term "abduction" is Abdelmonem Essid, chief of the country's "anti-crime unit" which is nominally affiliated with the Interior Ministry. He admitted to being behind the kidnapping of Prime Minister Ali Zeidan, who was taken from his hotel room earlier this month, but told a press conference: "It was me who arrested Ali Zeidan... I'm proud of it."
The proliferation of armed groups in the wake of the civil war which toppled former leader Muammar Gaddafi has caused a headache for Libya's government, with many of the militias defying attempts to disarm them. It left the media too preoccupied with the security situation to pay much attention to Sunday's second anniversary of Gaddafi's killing. State-owned National Libyan TV had live coverage of a conference on "dialogue" between opposing groups in Benghazi, while the Al-Hurra channel showed an interview with sociologist Mustafa al-Tayr. He delivered the damning assessment that: "Libya is not sliding towards being a failed state. Libya is not a state at all."
Use #NewsfromElsewhere to stay up-to-date with our reports via Twitter.