Costa Rica: Street dogs 'to join police'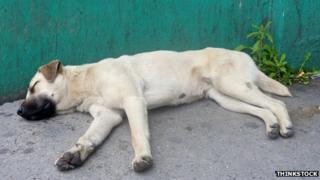 Some of Costa Rica's million or so street dogs are being trained to work for the police, it seems.
The Ministry of Public Security is training the mutts to look for explosives, money and narcotics, reports the Inside Costa Rica website. The programme apparently began in July, when dozens of "candidates" were taken off the streets. Seventeen have since passed the selection process to become the latest members of the police canine unit and are now being trained, the website says. It adds that they'll go on to work at border posts, in ports, airports and schools.
In June, the Costa Rica Star news site reported that there were one million stray dogs roaming the streets of a country which has a human population of fewer than five million. However, it distinguishes between these true strays, which are often diseased and tear through rubbish bags in search of food, and "neighbourhood" dogs - known as zaguates - which are kept off the lead and fed by the community as a whole.
Use #NewsfromElsewhere to stay up-to-date with our reports via Twitter.