Altered Images: When posed photos cause offence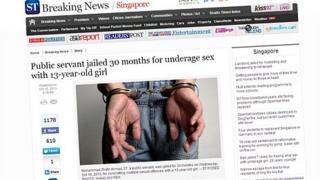 Complaints about the media using inappropriate posed photos to depict self-harm and sex offences appear to have hit home.
Freelance journalist Andrew MacGregor Marshall, who covers southeast Asia under the title Zenjournalist, had used a Facebook post to criticise the practices of the Singaporean media, in particular their "breathless hunt" for salacious stories about sex, murder and abuse. "Few things better illustrate the gross insensitivity of Singapore's newspapers than the posed photographs they use in their online content," he said. "In order to have visual images they can use on their websites to accompany stories about rape, sexual abuse, and other sensitive issues, Singapore newspapers regularly take crass staged pictures. It is a bizarre practice."
Most news sites - including this blog - use generic images to accompany reports when none directly related to the story are available. But Marshall's post reproduced a string of images depicting, among other things, a woman trying to fight off a rapist, a teenager cutting her wrists with a craft knife and another with the "helpful caption" reading: "Posed photo of a man touching a boy's butt." As Singaporean community news blog Mothership notes, the post was picked up by Sylvia Tan who edits LGBT website Fridae.Asia. According to Mothership, Tan wrote to the readers' editor at Straits Times, one of the publications highlighted by Marshall, and was told: "We agree and will refrain from such visuals."
Tan told Mothership the result proved how people had the power to change things if they took time to complain, rather than simply sounding off on social media. Marshall said he was pleased the Straits Times did the "right thing" but added a note of caution: "I'm delighted they will no longer use the photographs, but have they learned to take sensitive issues more seriously and treat victims of crime and abuse with more respect?"
Use #NewsfromElsewhere to stay up-to-date with our reports via Twitter.