Italy: Ambassador 'to sponsor' boat tragedy survivors to stay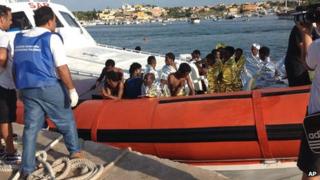 A diplomat says he'll sponsor two survivors of the recent Lampedusa boat tragedy to stay in Italy, a magazine reports.
Nunzio Alfredo D'Angieri, Belize's ambassador to Italy, says he and his family - backed by his government - want to give 800 euros per month for a year to help the migrants integrate into society and "create the foundations for a better future", says the weekly L'Espresso. More than 350 people died on 3 October after their boat capsized off the coast of the Italian island, prompting Italy to step up rescue efforts in the area.
In a letter addressed to the mayor of Rome, Ignazio Marino, the ambassador reportedly says his "modest" offering was prompted by his own experience as the son of an immigrant. "I know what it means to be persecuted and humiliated. I am a living example," D'Angieri writes. The diplomat is quoted as saying he'd been struck by Marino's "gesture of solidarity", in announcing that the survivors would be welcome in the capital city. L'Espresso doesn't make clear whether the ambassador can afford to stump up all the cash himself but it does mention he's known for his love of designer clothes and travelling in a Rolls Royce.
Use #NewsfromElsewhere to stay up-to-date with our reports via Twitter.