China: Four PCs connected to web 'via one-watt LED'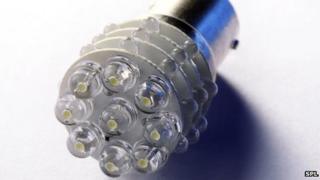 Chinese scientists claim to have connected four PCs to the internet via a one-watt LED bulb, it's reported.
Researchers at Shanghai's Fudan University say they followed a process of using light as a carrier instead of the traditional radio frequencies used in WiFi, according to state news agency Xinhua. It quotes IT professor Chi Nan as saying a lightbulb with embedded microchips can produce data rates as fast as 150Mbps (megabits per second), which is speedier than the average broadband connection in China. Communications watchdog Ofcom says the average UK broadband speed is 14.7Mbps.
Dubbed "LiFi", the technology was first developed by the University of Edinburgh's Prof Harald Haas. The latest advance will reportedly be on show at next month's China International Industry Fair in Shanghai. But it seems it'll be a while before its a commercial success, with one crucial flaw to overcome. "Turn off the light and there is no signal. If the light is blocked, then the signal will be cut off," Chi's quoted as saying.
Use #NewsfromElsewhere to stay up-to-date with our reports via Twitter.