Panama: President denies hoarding fake Twitter followers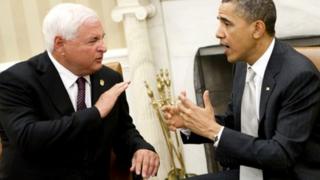 Panama's president has brushed off suggestions he's collecting fake Twitter followers to appear more popular.
Research suggesting that 31% of Ricardo Martinelli's 381,000-plus followers were "fake", and another 48% "inactive", appeared on Miami-based website Diario las Americas and were repeated in papers in his homeland. La Estrella de Panama quoted a social media analyst as saying that - given the country's 43% internet penetration - it could only sustain 15-20,000 active Twitter accounts, amounting to about 5% of the president's followers. And one political commentator accused Martinelli of building his following for egotistical reasons.
Martinelli doesn't seem too concerned, tweeting: "I asked none of my 381,394 followers to follow me. I choose to follow 770. Active, false or inactive. It's not my problem, it's theirs." And some of the comments under his tweet point out the report doesn't examine the accounts of rival politicians. In any case, Martinelli is in illustrious company. Recent reports suggested more than half of US President Barack Obama 36.9m followers were fake. State Communication Secretary Luis Eduardo Camacho dismissed Diario las Americas' suggestion the president was trying to give a false impression of his popularity, telling Telemetro Channel 13 it was "based on an absurd premise".
Use #NewsfromElsewhere to stay up-to-date with our reports via Twitter.