Kuwait: Coffee shops 'corrupt morals' - MP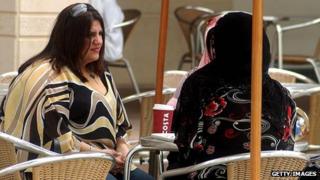 Coffee shops that allow women and men to drink together "corrupt morals" and have no place in society, according to Kuwaiti MPs.
At least, that's what they're said to have told local media, while threatening to interrogate three ministers in parliament if they didn't close the "immoral" cafes within a month. The Kuwait Times says Askar al-Enezi was among MPs, religious figures and residents who rallied in Jahra, near the capital Kuwait City, claiming cafes promote vice and depravation. "Such coffee shops have no room in our society as they violate our very traditions and customs," al-Enezi said. Fellow MP Mohammad Tana told Al-Jarida newspaper: "There is a deep corruption of morals at these suspicious places."
It seems the comments sparked a heated debate on social media about the extent of individual freedom. Kuwait has been relatively liberal; the first Gulf Arab country to adopt an elected parliament, it granted full political rights to women in 2005. But its society is rooted in Islam and the growing Islamist influence was apparent in conservative candidates' success in the 2012 elections, before the results were annulled on a technicality. They boycotted the next polls.
Use #NewsfromElsewhere to stay up-to-date with our reports via Twitter.