Arab World: Spreading the cost of sacrificial lambs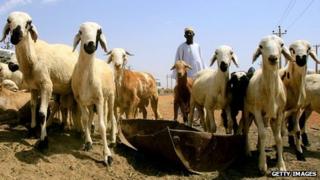 People in the Arab world are getting around the high cost of sacrificial lambs this Eid by paying in instalments.
In Sudan, where the scrapping of fuel subsidies sent livestock prices rocketing, one union is allowing people to spread the cost over nine months, according to government paper Sudan Vision. Tuesday marked the start of Eid, when Muslims sacrifice animals to distribute meat to family, friends and the poor. In spite of workplace instalment schemes, many "decided to forget about the sacrifices this year and save the little money they have to cover other essential costs", Amir Bashab writes in private daily al-Mijhar al-Siyasi. Small lambs reportedly cost 800 Sudanese pounds ($180, £115), with many fetching twice that. "Other requirements including edible oil, spices, and fuel etc cost more than the lamb itself," Bashab adds.
Ironically, Sudan exports animals to Saudi Arabia where - "thanks to the liberal import of sheep and huge subsidies for fodder" - prices have not increased "to the extent it was feared", says Arab News. The paper had earlier reported rising prices but said a post office and bank coupon system spread payment. Meanwhile, in Pakistan, where floods forced up livestock prices, people are chipping in to share one animal.
Use #NewsfromElsewhere to stay up-to-date with our reports via Twitter.