Belgium: Flemish parents 'become stricter'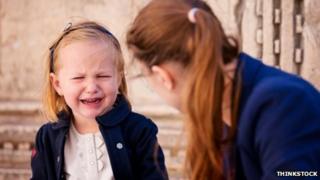 Mums and dads in the Dutch-speaking part of Belgium are tough on their kids because they reckon their own parents weren't strict enough, it's suggested.
A large-scale study into parenting in Flanders found 60% of those questioned considered it acceptable to give children an "educational slap", according to the daily paper Het Nieuwsblad. "They are [stricter] deliberately because they consider that their parents kept too loose a rein on them," it says.
However, it seems that for 37% the most frequent form of punishment is to ban the internet, computers or games. The paper said only 1% most often resort to a "slap", according to the survey of more than 1,000 parents. To date, 23 of 47 Council of Europe member states have banned corporal punishment and 6 more are committed to doing so," the council says.
Use #NewsfromElsewhere to stay up-to-date with our reports via Twitter.