Russia: Did children's TV parody protests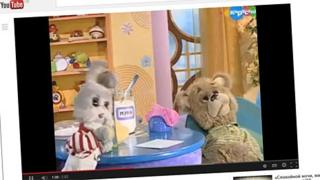 A Russian children's TV show's being accused of parodying the opposition protest movement.
Goodnight, Little Ones has lulled Russian tots to sleep since 1964 with its lullaby theme song and beloved puppet animals like Stepashka the hare, Khryusha the piglet and, more recently, Mishutka the teddy bear. But some viewers weren't happy when Mishutka staged a "lie-down protest" over kitchen chores, before quickly perking up when the presenter dismissed protests as simply "someone disagreeing with you" and invited him to bake cakes. Opposition blogger Rustem Adagamov denounced the episode as propaganda, and others declared they'd ban their children from watching the show. "If you start protests, you won't get any cake," tweeted Roman Dobrokhotov.
The producer denied the allegations on Ekho Moskvy radio, although the puppets are no strangers to political intrigue. An entire genre of anti-Soviet jokes revolved around Stepashka and Khryusha, and more recently critics have noticed that two "aunties" who present the programme are a controversial former Miss Russia and the daughter of pro-Kremlin film-maker Nikita Mikhalkov, as opposed to the respected actresses of yesteryear. Microblogger Kreutzwald tweeted that the episode might be a Kremlin dig at relatively liberal Prime Minister Dmitry Medvedev, whose surname basically means "bear".
Use #NewsfromElsewhere to stay up-to-date with our reports via Twitter.