Malawi: Drums and vuvuzelas 'more useful than phones'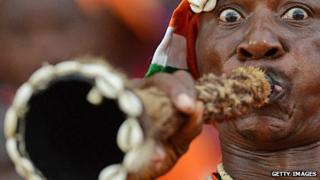 Communities in Malawi prefer to communicate with traditional drums or vuvuzelas instead of modern phones or radio when disaster strikes, it seems.
"Usually we use these traditional means because even phones are not efficient," regional representative Ndamiwe Kalambo reportedly told government officials at a meeting to discuss measures to cope in times of catastrophes like floods or droughts. He said that - while even the most remote places have access to mobile phones - "in most areas here we do not have good network coverage and even sending alert messages to council offices is not easy," reports state news agency Mana Online.
The report says flood-prone communities in Kilupula, where the meeting was held, "verbally shout out messages, beat drums, blow whistles or vuvuzelas" to send warning messages or call for help. It quotes Kalambo telling officials that government alerts should be sent to entire communities via SMS - in the same way as information on voting registration - to increase the chances of messages getting through in time. "Some households may not have a radio but it is rare to find one without a mobile phone," he's quoted as saying. Since 1984, Malawi has been hit by 29 floods, three earthquakes and seven droughts.
Use #NewsfromElsewhere to stay up-to-date with our reports via Twitter.