Altered Images: Questions over Kim Jong-un's 'fuzzy legs'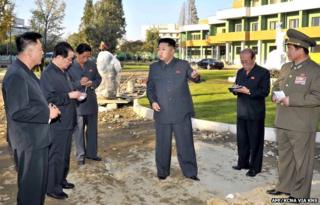 At first glance, there's nothing remarkable about this photo of Kim Jong-un touring the site of a children's hospital.
But the image - released by Pyongyang's official news agency KCNA - has come under scrutiny from web users who accuse the secretive state of digitally inserting Kim and his Workers' Party comrades into the shot. "Did you look at the shadows and the lighting?" asks Brian Ashcraft, editor of gaming website Kotaku. "The figures appear to be superimposed." Zooming in on parts of the photograph, in a post entitled North Korea still sucks at Photoshop, he notices "fuzziness around the legs and floaty feet, as well as odd shadows around the hands".
The photo was one of a series showing Kim inspecting the soon-to-be-completed paediatric centre and - to the untutored eye - they all seem to have similar qualities. However, many of those who commented on the story called into question whether the image was doctored, saying it was simply an effect of the flash. One wrote: "I am a photographer and the first thing I thought was a reflector or single light point above the lens was used. It tends to make the borders of subjects look artificial." Others pointed out that there would seem to be little reason to fake a relatively uncontroversial photo.
It's not the first time Pyongyang's official photos have been called into question. In March, amid heightened tensions in the region over North Korea's nuclear tests, KCNA released a photograph it claimed showed troops disembarking from hovercraft while taking part in a military exercise. However, as Alan Taylor wrote for the Atlantic: "At least two, possibly three hovercraft appear to have been pasted into the scene." The AFP news agency, which distributed the image on behalf of KCNA, later removed it because of "evidence of tampering", he added.
Use #NewsfromElsewhere to stay up-to-date with our reports via Twitter.