Turkmenistan: Cash rewards for praising president?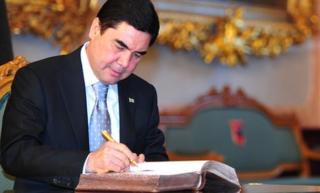 Singers and poets in impoverished Turkmenistan can tap into thousands of dollars of rewards by praising their president, it seems.
President Gurbanguly Berdimuhamedov doled out $280,000 (£175,000) to the winners of an annual contest for artists, literary workers and amateur singers, the Neytralnyy Turkmenistan newspaper reports. Observers note that most of the works by the dozens of people awarded between $1,000 and $5,000 are dedicated to the president's personality. Poets and pop singers call him Our Arkadag (Protector), Great Leader, and - through their songs and poems - wish him "long years of happy and successful life".
The presidential resolution published in the paper says that "songs glorifying our country's achievements fly all over the world". And the state-backed turkmenistan.ru website quotes the president as saying: "We live in the new epoch now. This means people of arts should have their own vision of modernity." When Berdimuhamedov first came to power, it seemed he was dismantling much of the personality cult built by his predecessor but in recent months he's been shown on TV "winning" a cycle race, jetskiing, fishing and riding a scooter on holiday. Meanwhile, many citizens of the gas-rich state continue to live in poverty.
Use #NewsfromElsewhere to stay up-to-date with our reports via Twitter.