Tajikistan: Signature task foils presidential hopefuls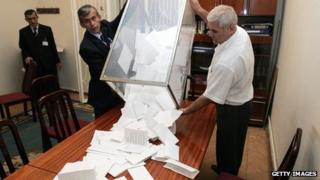 Presidential hopefuls in Tajikistan must collect paper signatures from 5% of the electorate just to stand for election.
And the task has proven too much for the opposition. Candidates were given an extra five days - over the usual 20 - to find the 210,000 signatures required. And while Emomali Rakhmon - incumbent since 1992 - had little trouble, the Asia-Plus website reports that opposition lawyer Oynihol Bobonazarova fell short by about 9,000 names. It quotes her as saying that while she knew she'd face the weight of the whole "state machine" ahead of the planned 6 November election, she "didn't think there'd be so many obstacles". She claims local authorities harassed her regional campaigners.
Radio Free Europe points out that Bobonazarova's task was made more difficult by the country's election body ruling that those working abroad - up to 45% of the electorate, including many opposition supporters - are ineligible to vote. Organization for Security and Co-operation in Europe observers complained that the signature requirement presented "significant obstacles" for candidates and noted there was no process to verify names. Opposition attempts to lower the requirement to 2% could not get past a parliament dominated by the president's People's Democratic Party, it added.
Use #NewsfromElsewhere to stay up-to-date with our reports via Twitter.