China: Sightseers 'kicked off bus tours'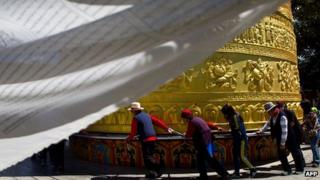 Tourists in China are being kicked off buses if they refuse to pay for extra activities on organised trips, reports suggest.
Guides in southern Shangri-La county - renamed in 2001 after the fictional Himalayan utopia - are said to be threatening to abandon travellers in the middle of nowhere if they don't agree to pay for unscheduled "attractions". The Taiwan-based Want China Times describes one incident in which an undercover reporter for state CCTV was manhandled off his bus when he refused to pay to visit an ethnic Tibetan home. Locals reportedly told him abandoned day-trippers were a regular sight, with one guide said to have threatened tourists with a knife. Another traveller who complained to officials was told never to return to Shangri-la, according to Hong Kong's South China Morning Post.
China's tourism industry has taken a battering in recent weeks, with the country's media focusing on poor tourist behaviour. Volunteers in one beauty spot in eastern Zhejiang Province found more than 7,000 cigarette butts on a 1.5km lake road, Xinhua news agency reports. Earlier in October, Beijing issued a "Guide for Civilised Tourism" for Chinese travelling abroad, including advice not to pick noses or pee in public.
Use #NewsfromElsewhere to stay up-to-date with our reports via Twitter.